Who We Are
FMX | Connect is a Commodity Portal for the Exchange and OTC traded markets. Global professionals use our unique combination of Data and unbiased analysis for trading decisions.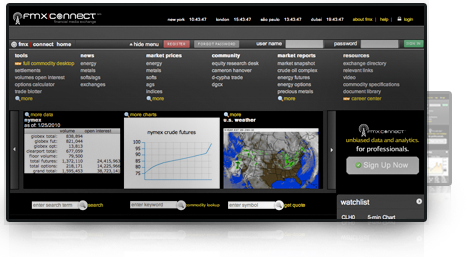 Our Clients
We serve Buy- and Sell-side professionals including: OTC Brokers, Banks, Trading firms, Research firms, Exchanges, and individual investors in the USA, Europe and Latin America.

FMX Connect

provides commodity brokers, their clients and professional traders access to data and research for crucial trading decisions.
WHAT WE PROVIDE
PRESS RELEASES
Financial Reform Bill: Impact on the Energy Industry
Jim Collura of the New England Fuel Institute breaks down some of key changes we can expect after the financial reform bill is signed into law.
The Week in Oil:
The Week in Oil is an FMX Connect exclusive video. It provides a weekly energy recap with technical analysis and commentary from industry veteran Peter Beutel.